WE CAN HELP YOU!
Renting furniture elevators
Rent your furniture elevators on the hour, half day or day with "MSJ monte meubles".
Rental of furniture Elevator and Material lifts in Paris, Ile de France and France with MSJ Monte Meubles.
Multi Services Joe Bechara is a firm that offers full services in the furniture elevator rental industry. With the help of our technicians and network of movers and renters, our services are deployed not only in the Paris - Ile de France region but also throughout all of France.Whether you are an individual or a professional, we can provide a quick, detailed, and precise price estimate for your moving needs.
Do you need to rent a furniture elevator to move furniture through a window? Or do you need to move office furniture, perhaps a couch, a fridge, a bookcase, a wardrobe, a dresser, a bed, or a table?
Maybe you would like us to assist in moving all of your furniture? We offer the option of renting a furniture elevator with the assistance of a technician for a half day, full day, or even on an item by item basis.
Individuals: However exhausting, fragile, or complex your move is, you will gain time and efficiencies using our freestanding furniture elevator or trailer. Neither your furniture nor your back will be constrained from this effort. Moving can be accomplished in hours instead of days.
Control costs, time and quality
More than 15 years of experience
Compliance with insurance and tax administration
WHY TO CALL MSJ MONTE MEUBLES COMPANY?
Our flexible, bonded, and efficient team knows how to adapt to each and every location and will fulfill your needs thanks to our availability, professionalism, efficiency, agility, meticulousness, courtesy, good value for money, helpfulness and high quality of service. And all this.done in a good mood!
Our marketing assets are our customers!
RENTING FURNITURE ELEVATORS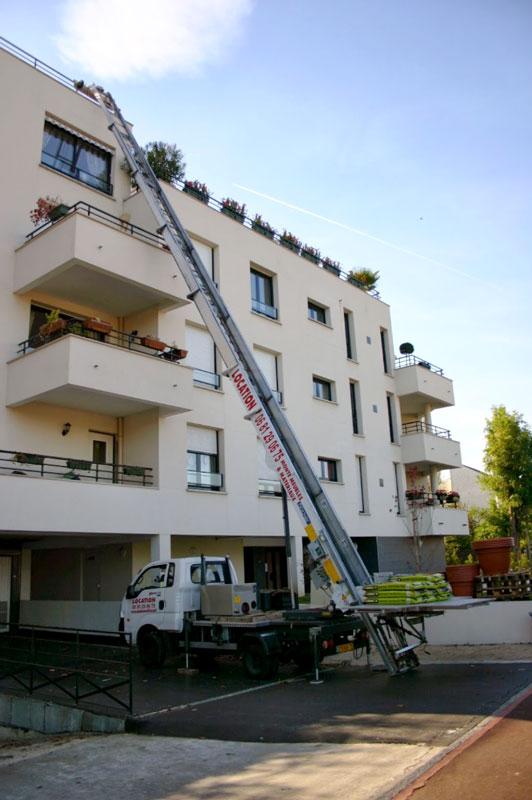 Renting a furniture elevator with the assistance of a technician is available according to the following schedule:
- Promptly
- Half day (morning or afternoon)
- Full day
You must submit a parking space requisition form for the furniture elevator rental. These forms may be obtained from the police station of your district or from the local city hall. This is especially true in the case of a narrow street or if you will be using the furniture elevators for several hours.
Do not hesitate to inform public authorities, as well as your janitor, local storekeeper and neighbors of the day you are planning the move.
Also, do not forget to book the closest parking space located under your window by parking your car at that location as well as posting a sign kindly asking the neighbors to move their vehicles.
RENTING LADDER HOISTS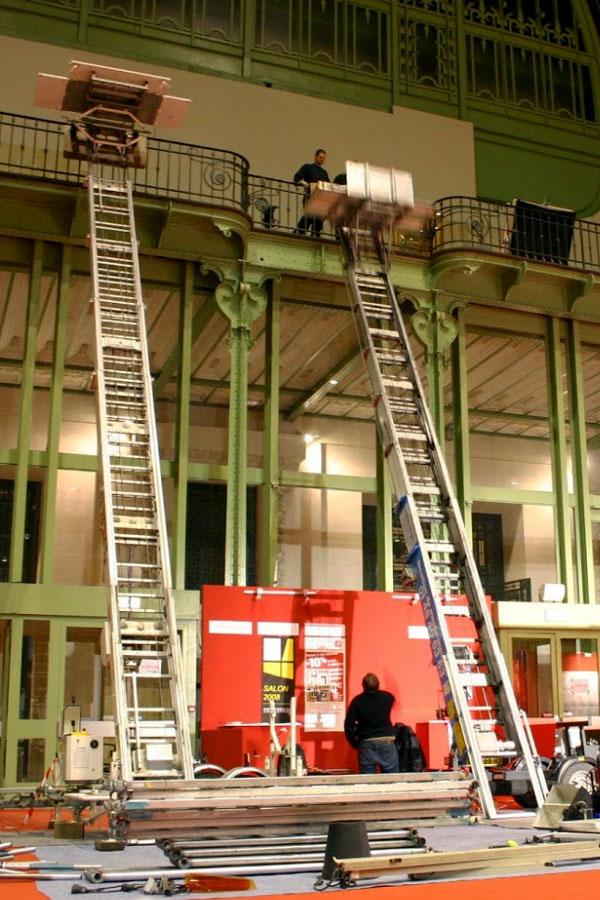 We also offer rentals of light ladder hoists that can be installed in courtyards, hard-to-access places, and narrow ways in low height areas or in heights of up to five floors.
From a technical perspective, an electrical interlocking ladder is a set of aluminum made ladder parts, each measuring nearly 6.5 feet long. They are interlocked with each other and their total height can reach approximatately 62.3 feet. We then, we add an electric engine and plug it into the mains. Its capacity is 440 Lbs per trip.
Thus we deliver a real moving lift, a furniture elevator working on ladders that we assemble part by part on-site.
The GEDA ladder hoists are known for their high quality. However, installing it requires the assistance of many technicians. In fact, it is a set of real moving lifts working together to establish height.
The rental cost of this electric ladder is more expensive than that standard moving lifts and has special price estimates depending on the height you desire to reach.
Our technicians will make sure the area is secured. We install a protected zebra crossing so that pedestrians can walk safely under the ladder, especially if the street is crowded.
Please fill in the online form, specifying your requirements for the ladder hoist rental. We will send you the price estimate as soon as possible, regardless of your location in France.
RENTING FORKLIFTS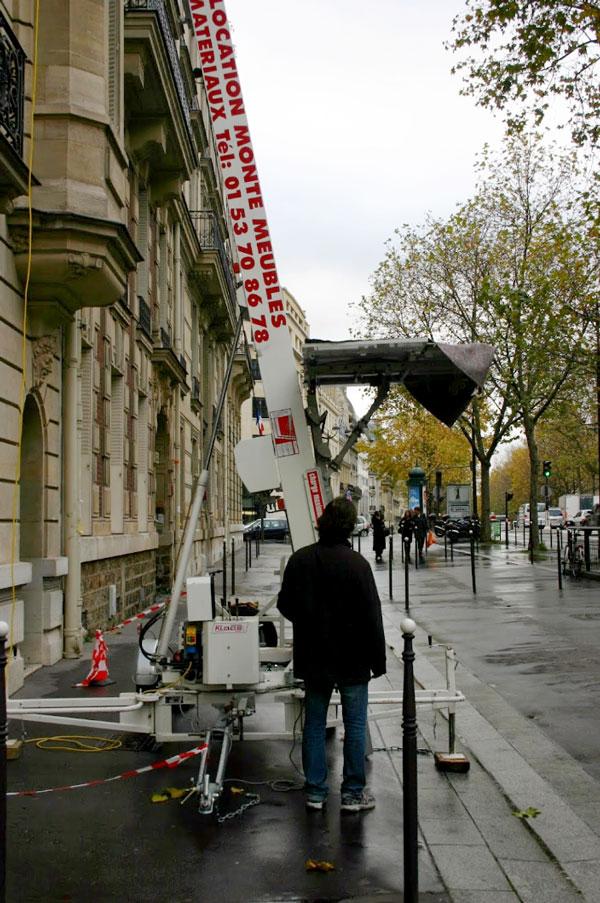 It is mandatory that our forklifts are checked every 6 months by highly qualified technicians. Although all our forklifts have the same mission we utilize different forklifts for different scenarios and environments.
Many variables determine which specific forklift is selected for a job. The forklifts operate with either an electric or diesel engine. We offer both freestanding or trailer forklifts. Our forklifts can reach a height of 121.4 feet and can withstand up to 660 Lbs of weight.
A trailer forklift has the advantage of being lighter than a freestanding forklift and can reach narrow spaces. However, it is bulkier and slower when installing or positioning it.
An outdoor, electric engine forklift has other advantages. It is less polluting, more silent and there is no risk of running out of gas while operating. Yet, it is slower at work than an engine forklift and its carrying capacity is only 550 Lbs per trip.
RENTING PROTECTED CROSSWALKS
It is important to public authorities that moving activities happen on their territory in the best conditions possible. A furniture elevator on a public road will help you move quicker. Thus, trucks and other vehicles will take less time on the public road; will obstruct the road for a shorter time, will bother less local authorities and parking spaces will be made available sooner. But all this must be done in optimal security conditions.
While the furniture elevator is working, despite all the precautions we can take, one mustn't forget that there will always be a risk: an item, a box or a piece of furniture can fall.
It is for this reason that we install a security perimeter under the ladder, forbidding people to enter the exposed areas in order to avoid any accidents involving injuries from happening.
In spite of these precautions, a crowded place could potentially be unmanageable especially in some streets or areas near downtown. Even the delineation of a special crossing or the use of sign boards may be insufficient. Thus, it is necessary to install a protected crosswalk.
A protected crosswalk is a set of parts made of resistant and light material. It can be assembled in 5 minutes and allows people to walk safely. It is resistant to a 1320 Lbs load falling from the 6th floor and helps secure the perimeter around the machine.
Some city halls require the installation of secured crosswalks for pedestrians.
If you need such installation on your site, please let us know. We are able to deliver it to you and install it in a very short period.
RENTING MATERIAL LIFTS
Many construction companies use our services and trust us for renting material lifts with the assistance of technicians. Using our services enable them to receive and operate the lifts on-site starting at 8 a.m.. They will gain time thanks to the qualified technician who install the material lift which can serve all the floors in one day.
Bring down your boxes of rubble, demolition waste and lift up your building materials.
We are aware of the importance that the rental of material lifts presents towards your construction activities.
You employ workers on your construction site, which represents an important wage cost. You have commitments towards your clients. Your construction site has to be well managed and you have to respect a deadline. You do not want to damage or soil common land or property. You have to maintain a good relation with the buildings' property manager.
Our material lifts are frequently subject to maintenance. They are capable of serving all heights with up to 880 Lbs of load. It is a win-win partnership.
In addition, we can assist you with any on-site technical surveying in Paris or in the Ile-de-France region.
TESTIMONIALS
Our marketing assets are our customers! A testimonies section is available for remarks or comments. It is by"word of mouth", that we have reached most of our clients who also recommend us to their acquaintances and keep our address for future services.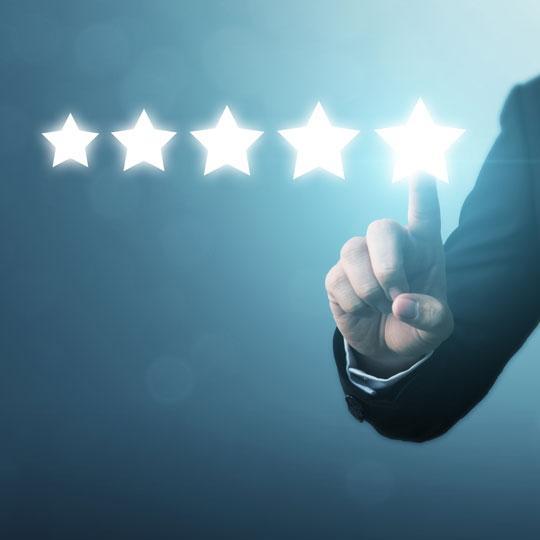 Département de Paris
Île-de-France
+33 6 89 36 06 14
$$
Add Testimonial
François-Xavier Maroteaux
How easy to work with you and what professionalism, keep it up! Many thanks again for your help, it was a simpler move than expected thanks to you. Nothing to complain about, everything was perfect! Best wishes. Company to recommend without hesitation.
François-Xavier Maroteaux

16 June 2014
The service has been excellent. The technician arrived right on time, he installed the truck and the ladder very quickly despite the presence of obstacles. We were then able to get all of our belongings (20m3 truck) up to the 6th floor without any problem and all in less than an hour and a half. I...
Nicolas Glachant

20 August 2015
To be honest, I still can't realize how quickly and easily my furniture was assembled in my apartment, I was worried a lot about the delivery of my new furniture and my new kitchen. I called on your company and I am delighted, everything went well, your furniture lift was a real spectacle to...
Emma-Louise Leroy

27 April 2014
I used MSJ's services for my move, and I highly recommend them. Arrived on time, professional and organized, Mr. Béchara was a great help for this day.
Clémentine GARNIER

07 April 2014
Excellent service. I used the services of Joe Béchara furniture lifter for a move. Everything went very well. Very good advice, very kind. I highly recommend it
Laurent A

04 August 2015
Work sites, moving, cinema, etc., whatever your needs, MSJ monte meubles answers your requests for interventions quickly.
OUR CLIENTS
MOVING FOR INDIVIDUALS
Individuals, if you choose to move by yourself it is a very good choice, especially since this allows you to save money, while moving according to your own schedule. This method may be better than other solutions. The following is some advice that will help you move in the best conditions:
1- Plan your move in advance
2- Book a minivan in advance. You can drive a 26.14 cubic yard (cu yd) minivan with a tourist driver's license. Generally speaking, it allows you to move the furniture of a standard two or three-roomed apartment in one drive.
3- Book one of our furniture elevators with the assistance of a technician in advance.
4- Ask your best friends and relatives to help you on the moving day.
5- Provide yourself with packing supplies, numerous standard sized boxes and small sized ones for books. Do not forget packing-tape, 31.7 US Gallon sized trash bags, old blankets, bubble wrap, glassware boxes, wardrobe moving boxes, plastic mattress covers, suitcases, bags, etc.
6- Prepare and pack your items in advance. Dismantle the pieces of furniture that require it.
7- Book a parking space near your place, in line with your window or balcony avoiding impediments in order to set up the furniture elevator correctly on the moving day.
8- Contact local authorities, the city hall or police station in order to get a requisition form for parking the furniture elevator.
We offer all types of furniture elevators and ladder hoists. We also offer, upon request, the services of movers specialized in material handling. Renting a furniture elevator with the services of a mover technician will help you gain time and avoid physical exhaustion.
MOVERS, CARRIERS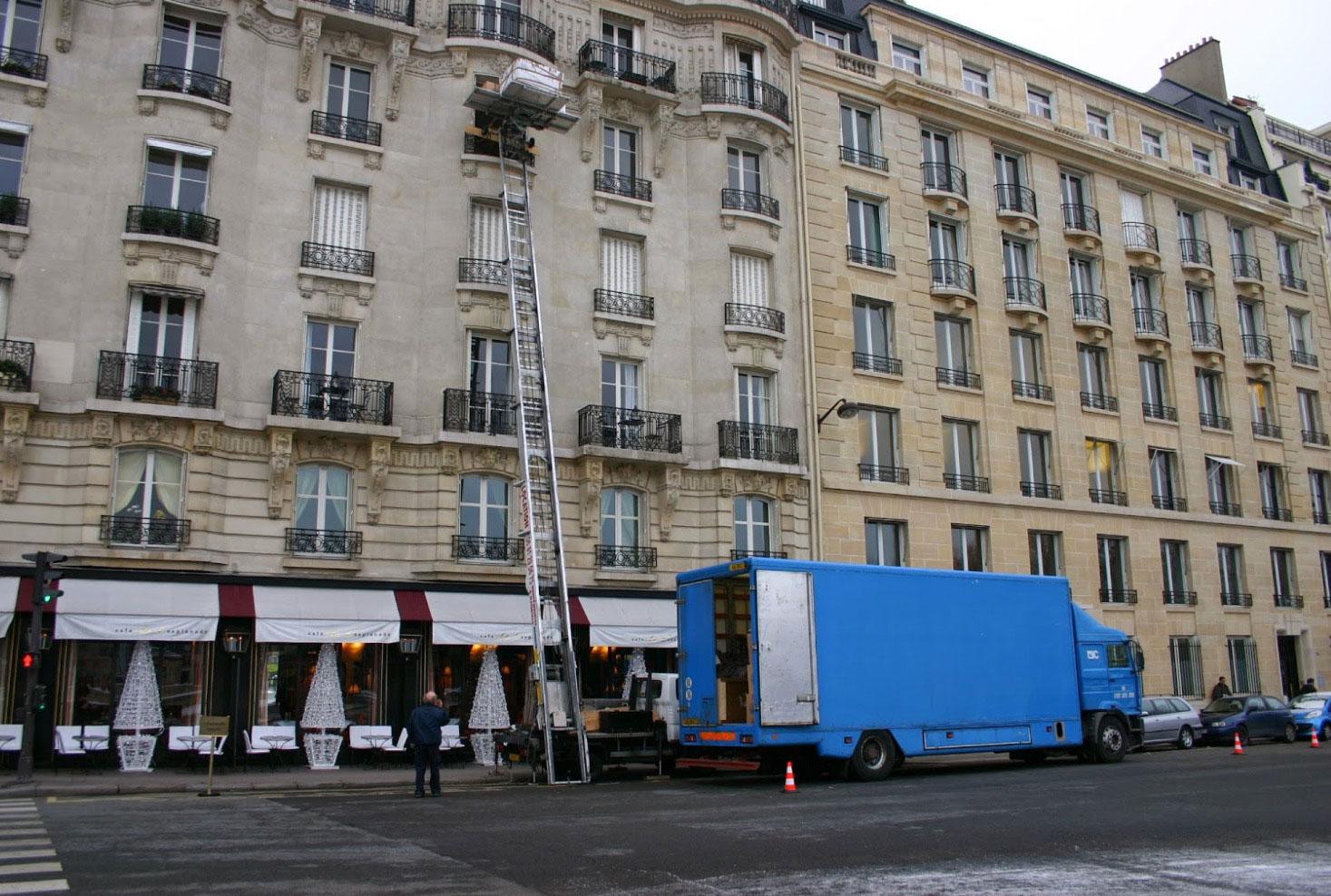 Movers, carriers, perhaps you promptly need a furniture elevator when loading and unloading furniture in Paris and in the Ile-de-France region. Whatever the technical configuration of your moving, our services can be very useful for you. In fact, moving is never configured at the last moment. It is a project that needs to be prepared in advance. We know what moving in Paris means!!! And it's very important to know that.
Among the services we offer:
- Renting all kinds of furniture elevators
- Getting a requisition form for parking space
- Displaying requisition forms for parking spaces
- Renting parking spaces
- Strategic on-site positioning of your company's name
- On-site technical visits and surveys of your clients while representing your company
- Delivering moving boxes, packing tape ... at your company's address
- Using the services of employees specialized in moving
- Offering free advice over the phone
Many moving companies in French Province or abroad use our services in Paris or its suburbs. We can help you in numerous situations, especially when you are far from your site.
International moving companies, together we will achieve your projects in the best conditions.
Do not hesitate to contact us.
BUILDING COMPANIES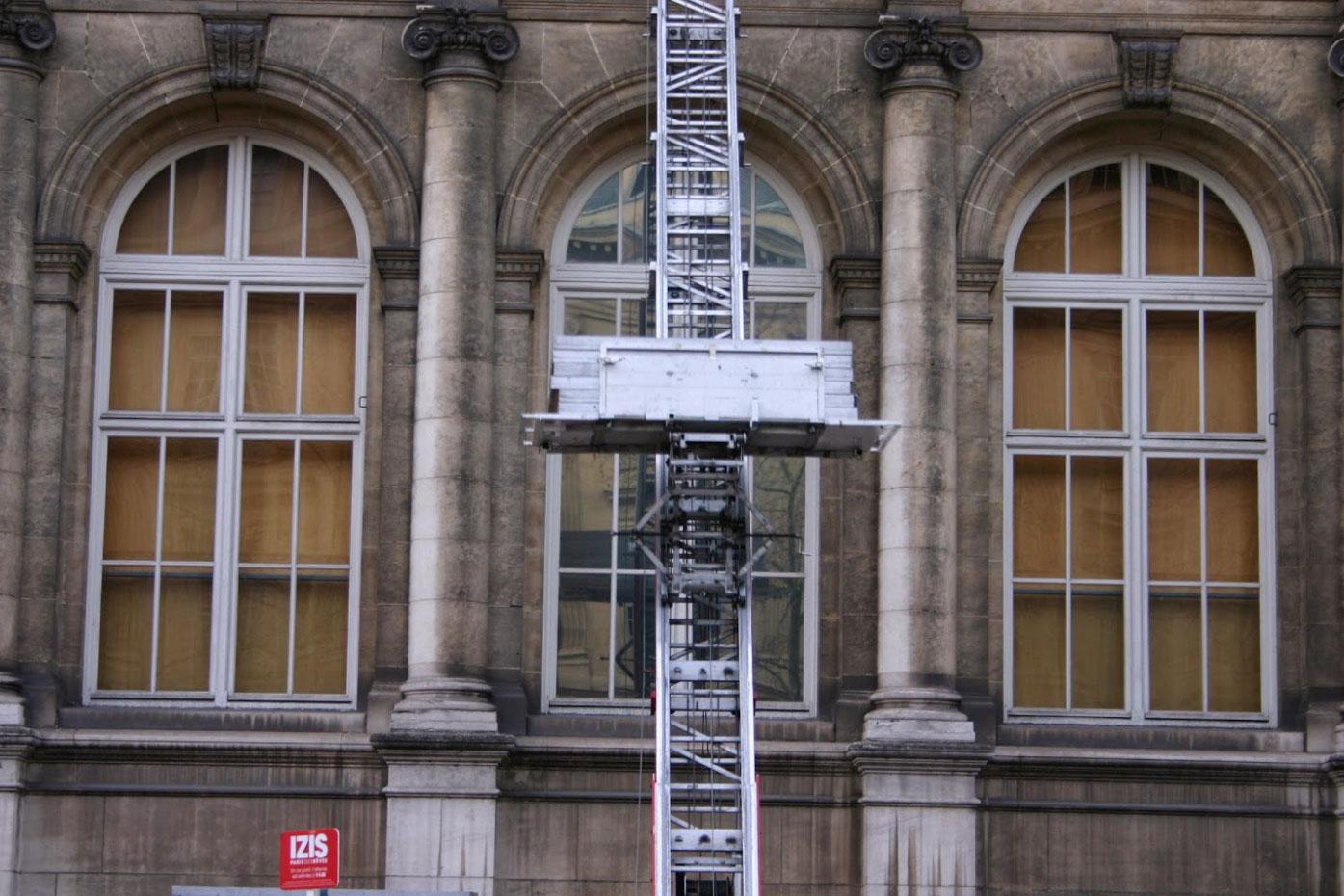 Building companies, carpenters, mirror dealers, glaziers, kitchen installers, pattern workers, plumbers, landscapers, interior designer, decorators, roofers, heating engineers, and furniture manufacturers - all of them use our services. For instance, the access to a building's or apartment's roof is more convenient with a material lift. In fact, it has a big tray which is suitable to your needs and can carry up to 882 Lbs at the speed of 22 seconds a distance of 6 floors!!!
Do not hesitate to contact us for additional services whether you are a professional or an individual, when you need to remove rubble and building site waste, empty your storage room, your apartment or your cellar in Paris or even to rent a dumpster in Paris.
We can assist you with any on-site technical surveying in Paris or in the Ile-de-France region.
CINEMA AND AUDIO VIDEO PRODUCTIONS INDUSTRY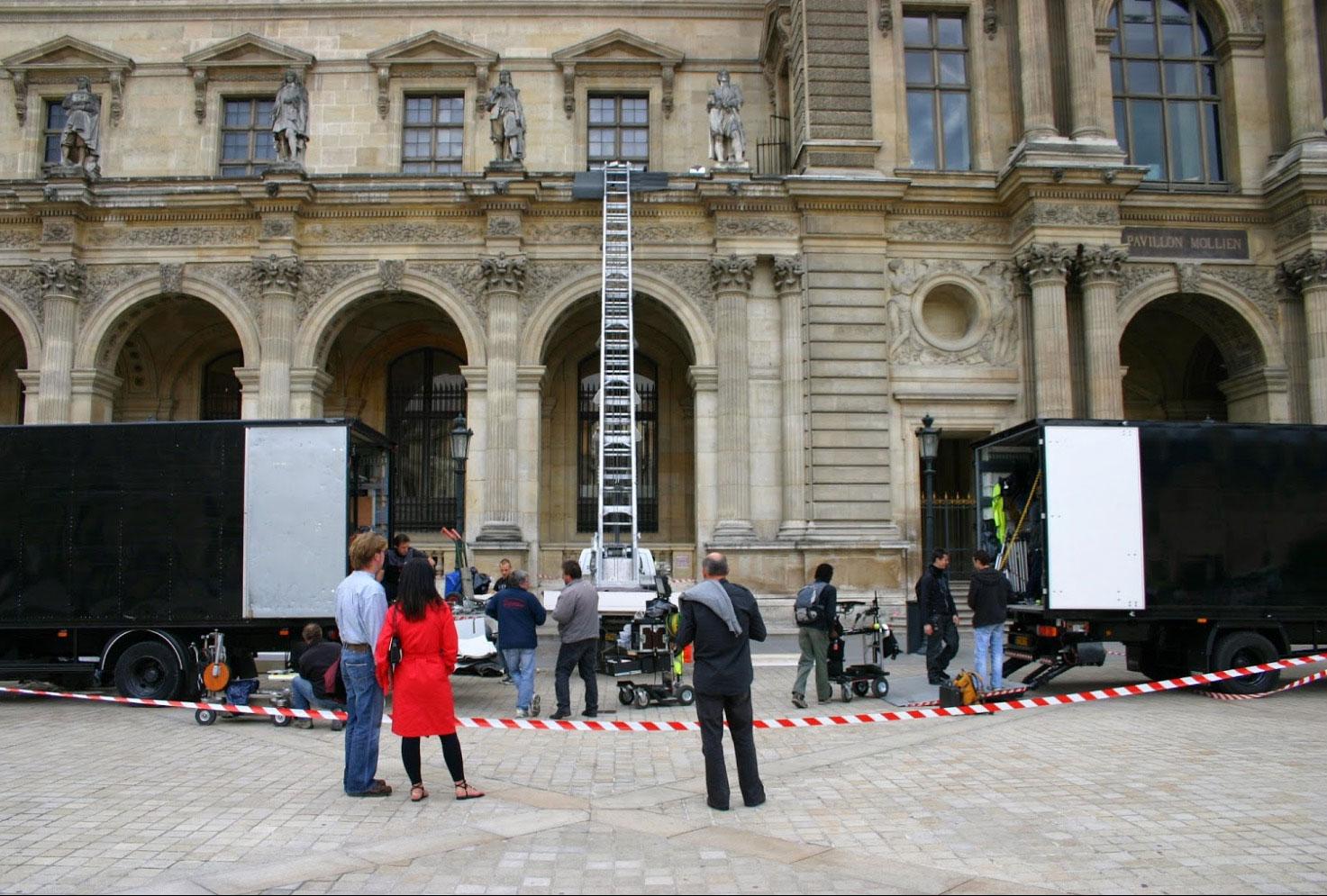 You need to rent a furniture elevator for your shooting. The set, the machinery, the cameras. all of them should be at the right place and at the right time.
We have already worked on the shooting of the following movies, among others: RIS, The RAINBOW WARRIOR, L'EMPIRE DU LOUP, NE LE DIS A PERSONNE, L'ENNEMI PUBLIC MESRINE, LES RANDONNEURS DE SAINT TROPEZ, COLUCHE, LE COEUR DES HOMMES, MICCMACS A TIRE LARIGOT, NUIT DE L'HOMME YVES SAINT LAURENT, PARIS FILM FESTIVAL...
We know the world of the cinema industry well and are able to measure the importance of the rigor it requires. This is why we place ourselves at your disposal in order to study your needs for renting a furniture elevator with the assistance of a technician. We will also survey and visit the site before the shooting in order to plan and consider all the special technical features required. It is a pleasure to answer your calls.
JOE BECHARA MULTI SERVICES: availability and responsiveness in order to answer your most demanding needs.